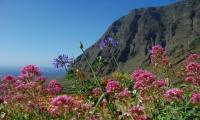 WITHOUT OBLIGATION!
CHECK
THE PRICE!

Description
El Sitio is composed of 7 apartments – studios (with a capacity of 2 to 4 people) located in small terraced gardens on the slopes of the hill.
For the construction and layout of the houses, natural materials were used (wood, mud bricks, terracotta floors, natural stone).
The heard of El Sitio is the main restored house, about 200years old in which the activity room is located. This room is used for classes, meetings, exhibits… and the winery, which serves as a meeting place and where you can cook and eat in a group.

7
Rooms
8
Bathrooms
16
People
Holiday Home

Situation / Information of interest
El Sitio is located in the vineyards, in the village of La Fontana at the North of the island, with views over the mountain, the sea and the region of El Golfo.
In this region, the majority of the wine of the island is produced, as well as pineapples, citrus fruits, almonds, figs, mangoes, papayas, avocados, and bananas.

Altitude:: 300m
Restaurant at...300m
Shopping centre at... 1500m
Centro médico a... 1500m
Distance from beach...: 3500m
Port at... 35000m
Airport at... 0m

Equipment
There are four different types of apartment- studios:
-Type A (Tacorón, without view of the sea), and those of type B (Salmor, Echedo, and Timor) are studios with 2 beds (together of apart), kitchenette and bathroom with shower.
- Type C (Gurazoca and Sabinosa) are more spacious and have a third bed.
- Type D (Isora) has a separate room and a sofa-bed in the living-room.

Each apartment has:
* Living-room
* Bathroom with shower
* Kitchenette
* Private terrace

Outdoor you will find:
* Garden
* BBQ
* Orchard
* Terrace
* Garden furniture
* Parking space.

Inside the main house you will find:
* Dining-room
* Kitchen
* Living-room
* Meeting room

Amenities:
* Internet access,
* Laundry service,
* Promenades with guide,
* Cot available,
* Information about the area


Additional information
Ideal for single travelers, couples, families, friends… who want to enjoy their time relaxing, the silence and peace between sea and mountain that this wonderful island offers us, a simple place to opt out of everything and where time stops.

The island offers many possibilities to the traveler, with a varied landscape full of intense scents of plants and stones heated by the sun.

There are many places that invite you to stop and admire the mountains, the valley and the sea, places full of charm and lush vegetation.