Rural Estate: Los Almendros - El Moral House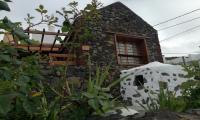 WITHOUT OBLIGATION!
CHECK
THE PRICE!

Description
This house can be found in the village of el Mocanal. In this area there is nice cool weather all year round. Typical house from El Hierro. This holiday cottage was refurbished in the year 2005. It has kept all the original style of the house and the tradtional architecture of the Island of el Hierro.
1
Rooms
1
Bathrooms
3
People
Holiday Home

Situation / Information of interest
The Rural Estate El Almendro, located 450m above the sea level and overlooking the island of La Palma is located in the village of El Mocanal, in the northern of the island El Hierro. This place has a pleasant climate all year round, in a totally rural area where you can enjoy the peace and quiet of the environment. Very well connected to the rest of the island, the capital, Valderde, is 5 minutes away by car, and 10min away from the other municipality of Frontera, thanks to the tunnel opened in August 2003. A typical house from El Hierro, built into a set of three completely independent holiday cottages.
Altitude:: 480m
Restaurant at...200m
Shopping centre at... 200m
Centro médico a... 500m
Distance from beach...: 1500m
Port at... 14000m
Airport at... 15000m

Equipment
* 1 double bedroom with 2 singles beds + sofa bed and cot

* Fully furnished bedroom, bathroom with bath, dinning room and fully equipped kitchen, Sat Tv and internet connection available.

* Parking,Terrace, and BBQ

* Rustic style furniture

Additional information
Located in the village of El Mocanal in the smallest of the Canary Islands, named a UNESCO Biosphere Reserve in 2000. With one of the most beautiful seabed of the islands, it has an attractive natural and ecological landscape, which along with the traditional lifestyle of its people; turn the place into a paradise in the Canary Islands.

With a privileged view over the hillside, the sea and evocative skyline, the holiday cottage is very close to a tourist trail that allows visitors to take long walks, while immersing in this peculiar nature. Also close to the Mirador de la Peña (viewpoint) and the Pozo de Las Calcosas (well).