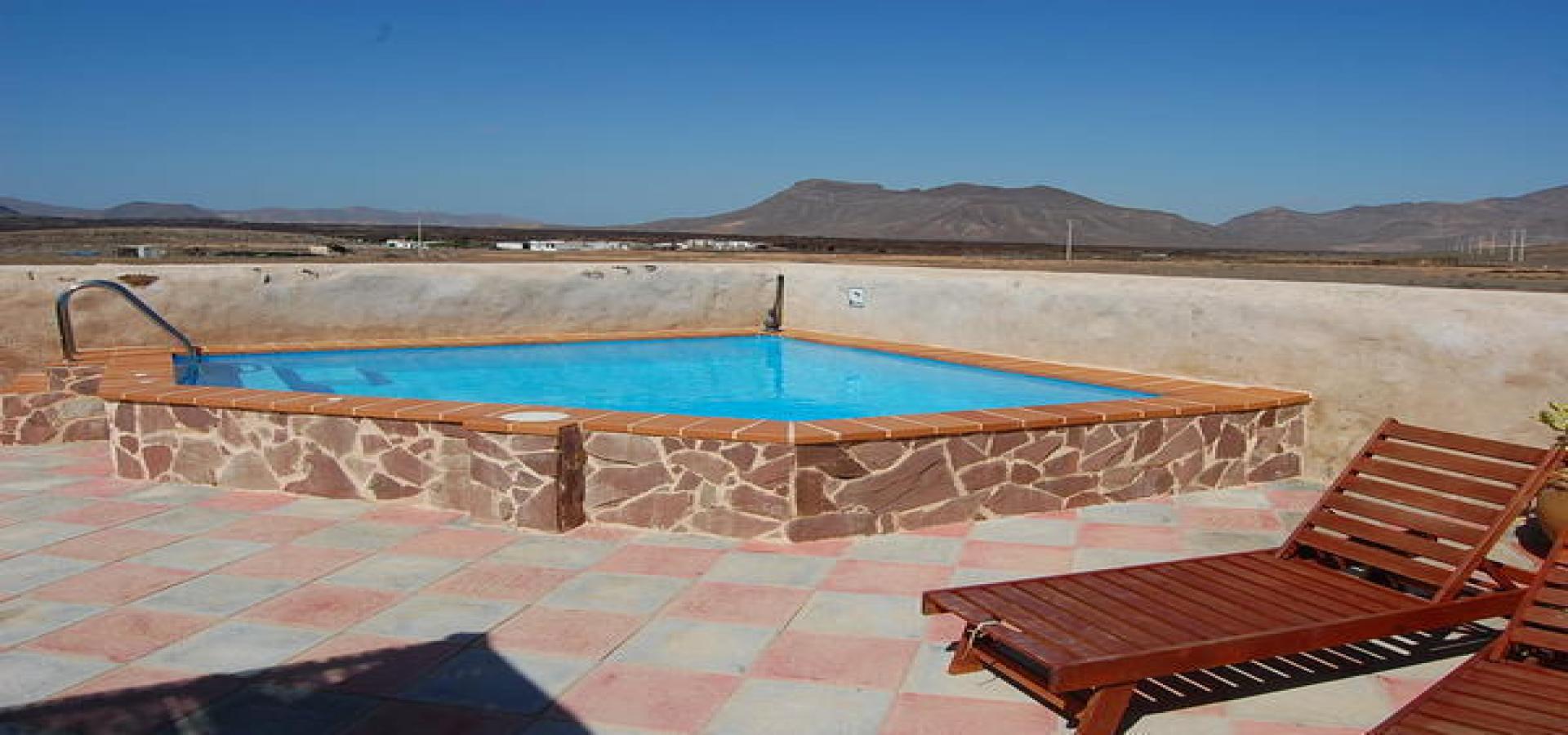 WITHOUT OBLIGATION!
CHECK
THE PRICE!

Description
The Rural House Aurora, dated from the early twentieth century, is located in an estate of 180.000 m², next to Casa Pilar. The holiday cottage with its 60m² has its own private pool, and is surrounded by a beautiful Canarian patio that connects the two different environments of the house. The decor has been sought to combine the traditional with the innovative creating a relaxed, cosy, romantic and intimate atmosphere. The nights here are spectacular under a marvellous sky without any light pollution.

Thanks to its large windows you will be able to enjoy the natural open space, with terraces that invite you to rest and contemplation.

Furthermore, you will be able to enjoy a swim in the pool and soak up the sun in the solarium in total privacy in a natural environment.

And when night falls, the sky is spectacular. The house has a telescope.

1
Rooms
1
Bathrooms
4
People
Holiday Home

Situation / Information of interest
Its location in a natural setting, in the municipality of Antigua, is ideal for enjoying the Nature of Fuerteventura with its volcanoes, in an open space, sunny during daytime, inviting you to enjoy an unforgettable vacation.
Altitude:: 300m
Restaurant at...5000m
Shopping centre at... 10000m
Medical centre... 10000m
Distance from beach...: 10000m
Port at... 30000m
Airport at... 25000m

Equipment
*One bedroom with a double bed (150 x 200cm) + a sofa-bed big enough for two + cot.
*Bathroom with shower, living room with plasma TV, DVD, board games, books. Fully equipped kitchen, induction cooker, washing machine, dryer, refrigerator with separate freezer, small appliances, sheets, blankets, towels, dishcloths.
*Outdoor areas: garden, garden furniture, barbecue, pool, solarium, terrace, telescope.
* Welcome gift: basket with aloe vera toiletries, a basket of fruits and water.


Additional information
The municipality of Antigua is located in the center-east part of the Island, with a population of about 8.000 inhabitants.
The Caleta de Fuste, in the town of Antigua, is one of the most important tourist spot of the Island.
Among its assets, on the outskirts of the town, is the Protected Landscape of Malpaís Grande, where the oldest Aboriginal remains known in the Canary Islands can be found, where a former town was built on the slopes of the volcano.
In addition, this municipality has natural monuments, the Salinas del Carmen, more than two centuries old, and the Castle of Caleta de Fuste.

Regarding the cultural monuments in Fuerteventura, we must mention two very important ones, both from a tourism point of view and from a cultural point of view, besides the Caleta de Fuste, symbol of this resort: the Iglesia de Nuestra Señora de Antigua (the Church Our Lady of Antigua) and the Windmill Cultural Tourist Center of Antigua named Molino de Antigua.
Places of interest:
It is important to mention that La Apañada takes place here, an apañada is a typical pastoral practice of Fuerteventura, where herds of goats are usually let loose in the mountains, thus once a year or more, the goats are grouped in a special farmyard called Gambuesa to identify the newborns with their mothers. The gathering of the cattle is also a meeting place for all people who come to see and help with managing the goats, while celebrating the event in a big party.
As the island is so wide, the holiday cottage is ideally located to enjoy the paradise beaches, the caldera of los Arrabales, the aborigen town of la Atalayita, the Cueva valley, and the sailor's town of Jacomar, among others.
Restaurants in the area:
Restaurant Casa Luis in Tiscamanita
Restaurant Casa Victor in Las Playitas