Holiday cottage El Pajar de Miguel Velasquez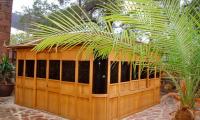 WITHOUT OBLIGATION!
CHECK
THE PRICE!

Description
The Holiday cottage El Pajar de Miguel Velázquez, is known by the locals as El Pajar since the house was used for such occupations until the 70's, and whose name was kept afterwards by the owners. While keeping all its traditional architecture in Gran Canaria, the house gets pleasantly cool during summer and warm during winter.
1
Rooms
2
Bathrooms
2
People
Holiday Home

Situation / Information of interest
The El Pajar house is located in the fantastic municipality of Tejeda en La Solana. It's a small group of 6 neighbours only 10 km from Tejeda. It's an authentic rural location which has a very unique paved street, marvelous for nature lovers and for those who want to disconnect from the secular world.
Altitude:: 800m
Restaurant at...11000m
Shopping centre at... 11000m
Medical centre... 11000m
Distance from beach...: 44000m
Port at... 5600m
Airport at... 52000m

Equipment
* 1 Bedroom with double bed, bathroom with toilet and sink in the bedroom, TV and cot available.

* Jacuzzi with ozone generator and wooden gazebo.

* Fully equipped kitchen with dishwasher, washing machine, hair dryer and microwave-oven.

* 1 complete bathroom with shower.

* Hot water from solar energy.

* Flat screen TV-Satellite, HiFi-CD, music, air conditioning and heating and wood stove in the living room.

* Safe.

* BBQ and terrace furniture.

* Small computer with internet connection.


Información adicional
In the evenings, you will enjoy, if you wish to, watching the starts, in this ideal place. It is also ideal for those seeking tranquility and a get away from everyday life.

Immersed in the Nublo Rural Park, it is an ideal place to undertake various royal roads.
Tejeda is a municipality located in the center of the island of Gran Canaria. The municipality covers what is called the Tejeda caldera, a volcanic formation furrowed by steep ravines in which two rocks rise; they are the geological symbols of the island: el Roque Nublo and el Roque Bentayga.

Also, outdoor sports lovers will enjoy mountain biking, hiking, and the proximity to the dams or the reservoirs in the area of activities like fishing, wind-surfing and climbing.