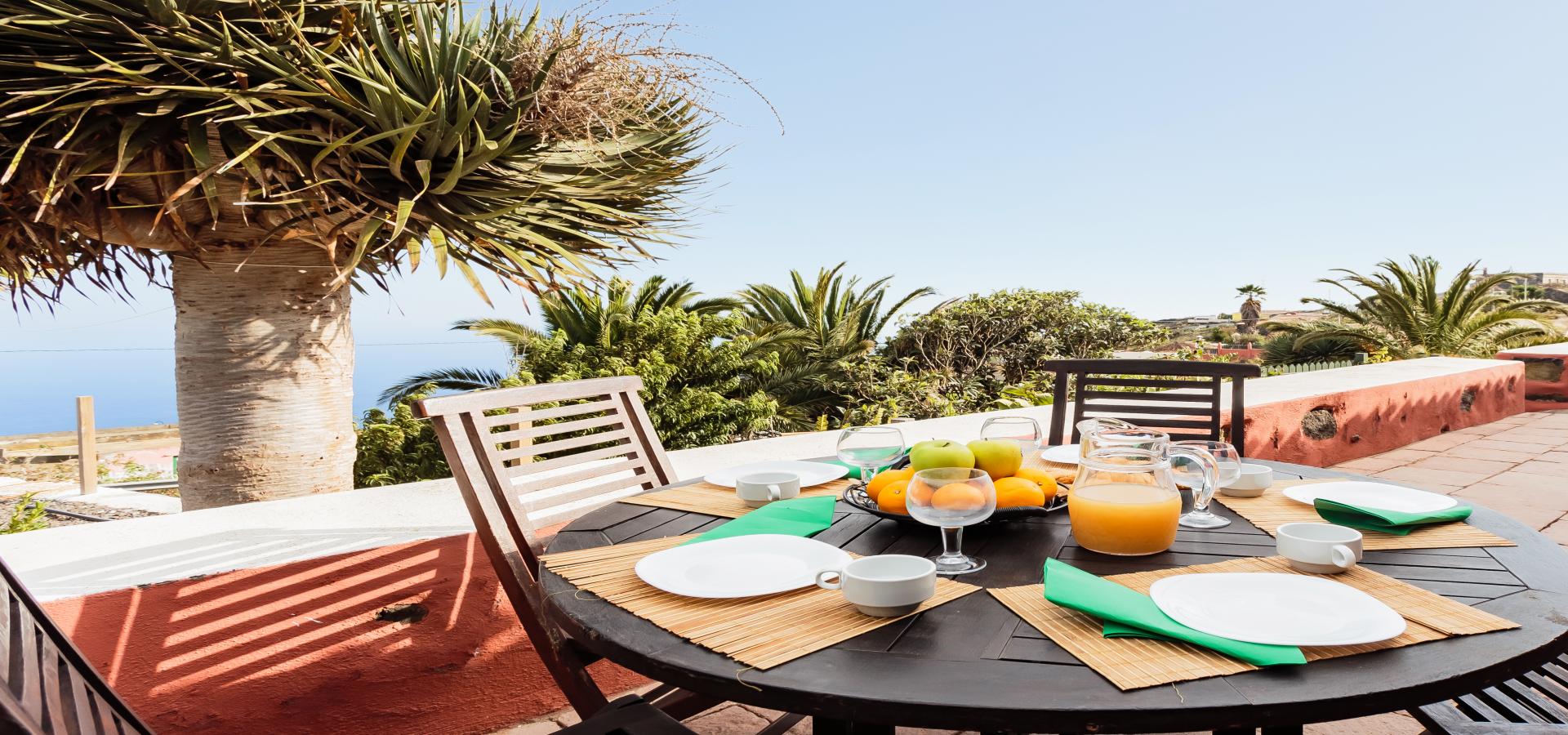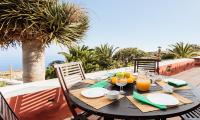 WITHOUT OBLIGATION!
CHECK
THE PRICE!

This accommodation allows
Reservations ONLINE

Description
This century-old house, with a maximum capacity of 6 tenants, comes with 3 double bedrooms, 2 bathrooms, a large living room, a kitchen, terraces, garden, portable barbecue grill and private swimming pool.
Los Draguitos is a welcoming home, with bright colours that highlight the stonework in most of the rooms. The window seats, the wooden roofs and, in the kitchen and living room, wooden floors, remind us that this is a rural Canarian house.
The hydromassage bath in the main bathroom invites you to enjoy a few moments of downtime at the end of the day.
Outside, the private pool adds an extra attraction, particularly on hot days. The swimming pool's dimensions are: 6m length x 4m width and the depth ranges from 1.70m to 2.10m.
The view overlooking the sea from Los Draguitos makes this an ideal place to watch a beautiful sunrise, and as night falls to enjoy the island's excellent dark skies – which are perfect for stargazing.
3
Rooms
2
Bathrooms
6
People
Holiday Home

Situation / Information of interest
The rural house of Los Draguitos is located in Malpaís street, in Villa de Mazo, on the eastern side of La Palma. Makes Los Draguitos a good starting point to explore the island of La Palma and get to know its main attractions.
Altitude:: 386m
Restaurant at...2600m
Shopping centre at... 400m
Centro médico a... 5100m
Distance from beach...: 12000m
Port at... 13200m
Airport at... 10800m

Equipment
The house has only one floor distributed in:

- 3 double bedrooms, with double bed
- 1 bathroom with shower
- 1 bathroom with hydromassage bathtub
- Dining room
- kitchen:
* Italian coffee maker
* electric coffe maker
* coffee maker in capsules
* dishwasher
* juicer
* microwave oven
* sandwich Maker
* teapot
* electric oven
* toaster
* dryer
* washing machine
* WIFI

Additional information
Its location, less than 15 minutes' drive from the airport and some 20 minutes from Santa Cruz de La Palma and the nearest beaches like Bajamar, Los Cancajos, etc., as well as its proximity to some footpaths and points of interest such as the Belmaco Archaeological Park, just 0.5km away.