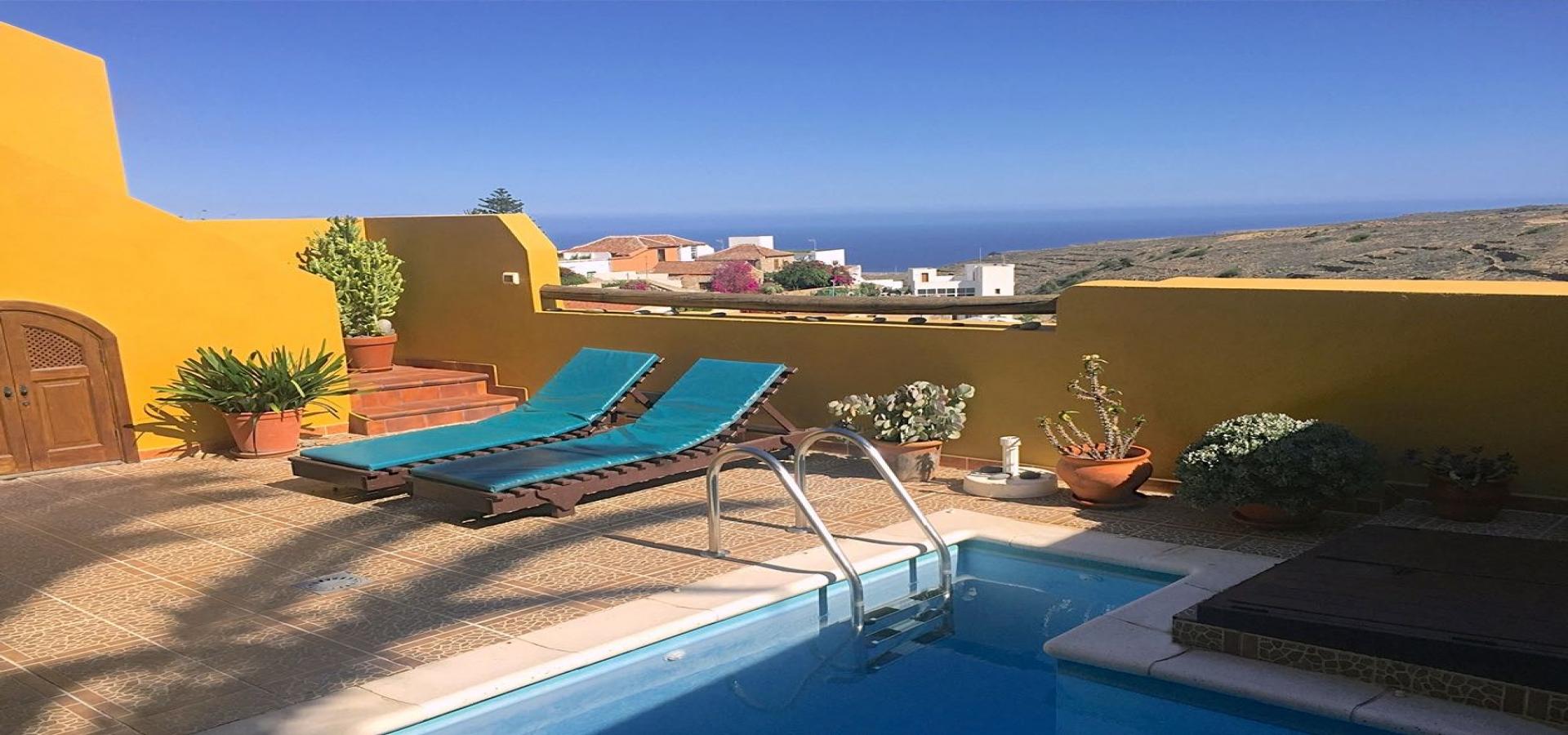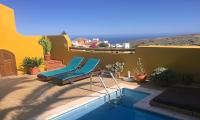 WITHOUT OBLIGATION!
CHECK
THE PRICE!

This accommodation allows
Reservations ONLINE

Description
El Mirador is an exclusive one bedroom house with a private pool that is situated in a spectacular terrace with panoramic views to the great ravine that Arico Nuevo has.
The house is 70 m2, of which 35m2 is terrace.

1
Rooms
2
Bathrooms
3
People
Holiday Home

Situation / Information of interest
This rural property is situated in the historic helmet of the village of Arico Nuevo, a beautiful and rural town in the South of Tenerife which is characterised by its great artistic and architectural patrimony.
Altitude:: 500m
Restaurant at...500m
Shopping centre at... 500m
Centro médico a... 500m
Distance from beach...: 7000m
Port at... 48000m
Airport at... 15000m

Equipment
* One bedroom with two single beds

* Fully equipped kitchen with vitroceramic, toaster, coffee maker, teapot and oven

* Lounge with satellite TV and DVD

* Two bathrooms with shower, an entrance hall with sofa-bed (child) and kitchen/diner to the terrace

* 35m2 terrace with BBQ, table and chairs to enjoy a nice breakfast, lunch or dinner.

* Pool size long 2.45m wide 1.50m/1.00m x 1.60m depth .

Additional information
Arico Nuevo enjoys an amazing climate all year round. It is also just 10 kms from Abades or Poris de Abona, coastal neighbouring towns where you can have the opportunity to bathe in the sea.

The village of Arico is situated in the southeast of the island of Tenerife in the mountainous region of Agache and a narrow coastal area. In the area you can be find other small villages with very similar names such as Arice el Viejo, Arico el Nuevo, Villa de Arico, as well as many small villages.

Arico has kept a unique romantic spirit from a rich history. This is the perfect place to enjoy pure nature, amazing landscapes, breathtaking ravines rich in PUZOLANA.

The landscape full of ocres colors is the result of several volcanic eruptions. At present the area is very dry with few trees and shows a rich landscape due to erosion.