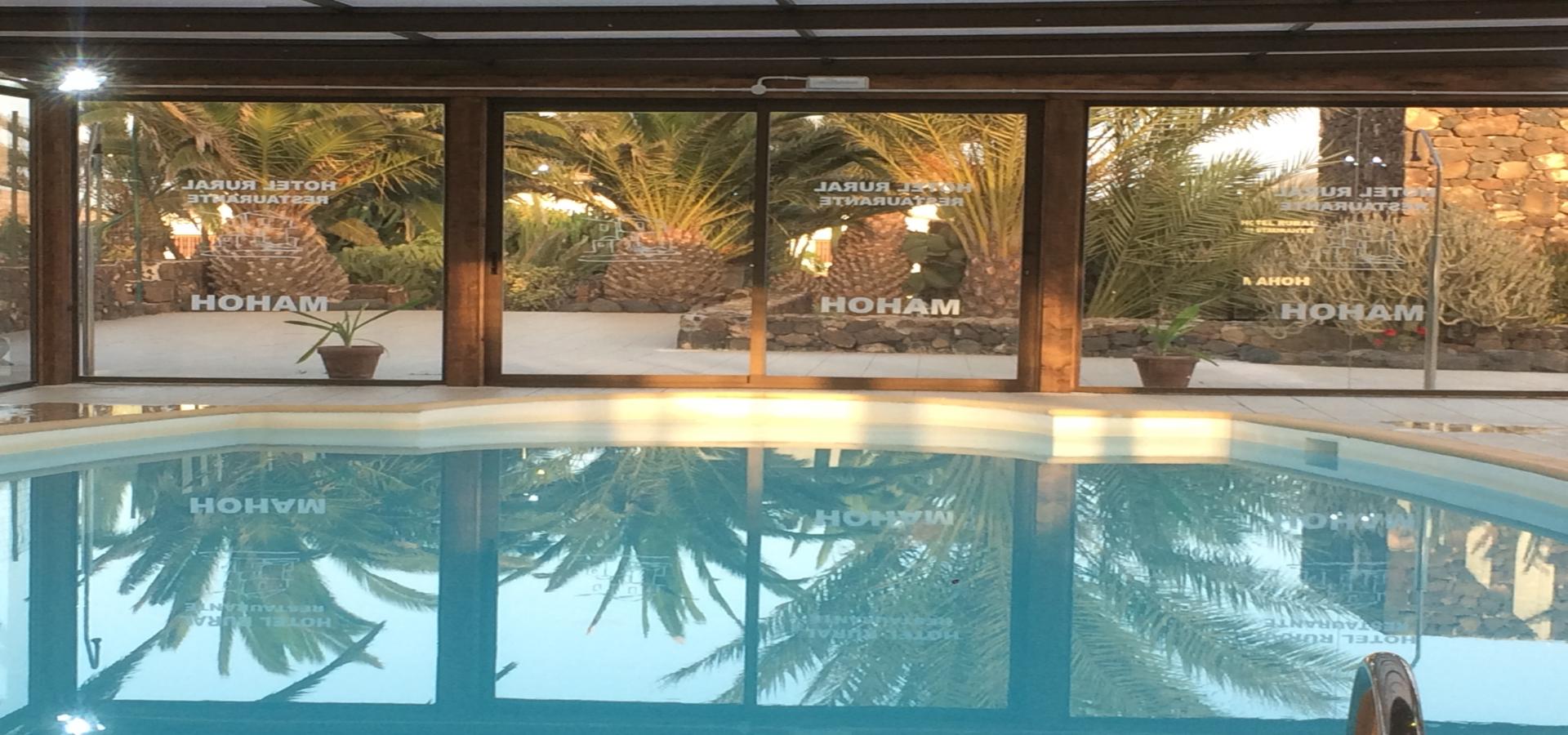 Rural Hotel Mahoh - Double bedroom
WITHOUT OBLIGATION!
CHECK
THE PRICE!

This accommodation allows
Reservations ONLINE

Description
This is an old holiday cottage built in the 19th century. MAHOH is the oldest name known in Fuerteventura, this is a word from the guanche civilisation which means: my place, my country. It is also the name of an Ecologist movement that are fighting to keep the original architectural landscapes of the island.

Bedrooms in: SECOR MAGA: 1. bedroom Bayuyo: Comfortable and spacious bedroom which gets its name from a natural park of the area. 2. Bedoom Mascona: Decorated with typical canarian furniture. 3. Bedroom Escanfraga: Lovely room with amazing views to the village of Villaverde. 4. Bedroom Cofete: Gets its name from the spectacular beaches from the south.

Bedrooms in SECTOR SEÑORIAL: 1. Bedroom Huriamen: Very homey and comfortable. 2. Bedroom Jarugo: Luxery and comfortable bedroom, gets its name from a beach of the island. 3. Bedroom Vihocho: Very homey, gets its name from a large sandy field in the north of the island. 4. Bedroom Amanay: This is the most luxurious bedrooms with typical colonial style of Fuerteventura from the 19th century.

Bedroom in SECTOR CORONELA: 1. Bedroom Tindaya typical colonial style of Fuerteventura from the 19th century, gets its name from the famous mountain.
1
Rooms
1
Bathrooms
3
People
Rural Hotel

Situation / Information of interest
The hotel is situated in La Oliva town.
Altitude:: 320m
Restaurant at...50m
Shopping centre at... 50m
Centro médico a... 15000m
Distance from beach...: 15000m
Port at... 15000m
Airport at... 25000m

Equipment
* 9 double bedrooms: 7 with double beds: two with two single beds. Also availbale 9 extra beds and cots
* Bathroom in each bedroom, litchen, dining room, music system, meeting room, phone and Sat TV.
* Service: internet access in Reception, bicycle, laundry, restaurant, safetly deposit box in reception, 4,000m2 gardens, sport facilities ( tennis, volleyball, basket ball, handball). swimming pool, library, parking.
* Rustic style furniture in each bedrooms.
* The hotel offers the possibility of half board or full board

Additional information
Situated 10 minutes from the beaches of Cotillo, Natural park of the dunes Corralejo, at 15 minutes from the village of La Alcogida, at 20 minutes from the capital Puerto Del Rosario, and 25 minutes from the airport.

For 7,50€ per day you can rent a bicycle and discover the village of la Oliva where you can visit the following places: casa de los Coroneles, Canarian Art Centre, the museum of casa de la Silla, and the old Church.

In Quesería (Villaverde) you will find the best goat cheese in the world.