Golf View Duplex Villa Mirador de Lobos (3 bedrooms)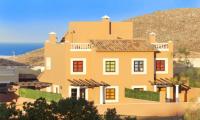 WITHOUT OBLIGATION!
CHECK
THE PRICE!

Description
This gorgeous villa has impeccable design and exquisite finishes. With beautiful views to the sea, it is part of the residential complex of Mirador de Lobos and offers all imaginable comforts which will make your stay an unforgettable experience. This is the perfect place for playing golf or getting lost in a sea of dunes framed by the turquoise sea colour.

Ideal for couples, friends or family holidays.
3
Rooms
2
Bathrooms
6
People
Villa

Situation / Information of interest
Duplex located near to the Corralejo Dunes Natural Park, to the north of the island of Fuerteventura.
Altitude:: 0m
Restaurant at...0m
Shopping centre at... 0m
Medical centre... 0m
Distance from beach...: 3000m
Port at... 5000m
Airport at... 35000m

Equipment
This villa is spread over two floors of 120 m2 and consists of:
* 1 Bedroom with double bed
* 2 Bedrooms with two single beds
* 1 Bathroom with bath
* 1 Bathroom with shower
* Fully equipped kitchen with oven, refrigerator, microwave, iron, etc.
*1 Living room
* TV, USB, DVD and WIFI
* 150 m2 terrace with sitting area, garden, sun loungers and barbecue.
* Private Pool
* Parking

Extras to be paid on arrival:
Breakfast: 10 €/person /day
Half board 30 € /person /day
Swimming pool heating: 20 €/day

Additional information
Protected since 1994 the Corralejo Dunes Natural Park offers over 2,600 hectares of spectacular and unusual scenery, a sea of shifting sand that adopts forms at the whim of the wind. It also has a great variety of birds which will delight the little ones.
At only 2 km from Fuerteventura, with easy access by ferry from Corralejo, we can find the wolf's island, Isla de Lobos, a paradise of flora and fauna, where to enjoy unspoilt beaches and spectacular sea beds.